45th QubicaAMF Bowling World Cup

QubicaAMF is pleased and proud to announce that the 2009 Bowling World Cup will be held in the stunning new 52-lane centre in Melaka , Malaysia, from 14th to 21st November 2009.

"It is 22 years since the Bowling World Cup was in Malaysia," said John Walker, Chief Executive Officer of QubicaAMF, "and it is high time that we came back to a country that holds bowling in such high esteem."

John Walker went on to say: "We are honoured that the tournament will be backed by Chief Minister of Melaka, Datuk Wira Ali Rastam. Management Company Benua Aspirasi, a dynamic and professional company headed up by CEO Mr Fadzil Ibrahim, has been entrusted by Melaka State Government to run the new Melaka International Bowling Centre (MIBC), the biggest bowling centre in Malaysia. Mr Ibrahim's team has plenty of experience in running world class sporting events so the 45th edition of the World Cup is set to be a remarkable tournament and one which will live long in the memory of all who visit Melaka."

The MIBC is located in the city of Melaka, on the west coast of Malaysia which is known as a prime holiday destination. It is the capital of the state of Melaka and home to 700,000 people, only 1 hour from Kuala Lumpur International Airport (KLIA). The centre has 26 lanes on each side of a wide and roomy central concourse, with plenty of ancillary facilities for all to enjoy. Construction is due to be completed in early summer and will be equipped with the latest state of the art QubicaAMF lanes, pinspotters and scoring systems.

QubicaAMF Bowling World Cup Manager, Anne-Marie Board, added her delight and said: "I am really excited about the prospects for this year's event. Bowling is such an important sport in Malaysia – many of us remember that it was part of the Commonwealth Games in 1998 – and I know that all competitors, officials and supporters can expect a warm welcome from knowledgeable crowds."
The Bowling World Cup was held in Kuala Lumpur, the capital of Malaysia, in 1987 when the winners were Remo Fornesari of Italy and Irene Gronert of the Netherlands. Remo is the oldest player ever to have won the Bowling World Cup: he was 51 when he triumphed in KL.
Final da 44ª QubicaAMF na Eurosport1

É com prazer que informamos que a final masculina da 44ª QubicaAMF realizada em Hermosillo, Mexico, será transmitida no canal Eurosport 1 no dia 28 de Dezembro de 2008, pelas 23H30 CET

Trata-se de uma excelente oportunidade para ver talvez a melhor final masculina realizada até hoje.
Bowling Masters tem por objectivo desenvolver a partir de 2008, uma nova visão do bowling de lazer, através da comercialização de pistas de Bowling com máquinas TMS, para pequenos centros, de 2, 4 ou 6 pistas e ainda desenvolver um novo conceito de Mini Bowling HIGHWAY66 para espaços com dimensões reduzidas.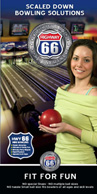 Download PDF (2 mb - 12 pages)